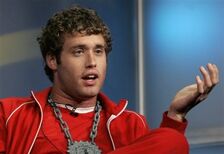 T. J. Miller (born: June 4, 1981) is an American film & television actor and stand up comedian.
Bio
Miller attended the George Washington University in Washington, D.C. where he was a member of the comedy group ReceSs and the Lambda chapter of Phi Sigma Kappa. He appears as Marmaduke Brooker in the TV series Carpoolers and as the character Hudson Platt ("Hud") in the J. J. Abrams-produced film, Cloverfield. Miller has co-hosted on the comedy radio show Red Bar Radio a number of times. Will appear in the upcoming film She's Out Of My League
External links
Ad blocker interference detected!
Wikia is a free-to-use site that makes money from advertising. We have a modified experience for viewers using ad blockers

Wikia is not accessible if you've made further modifications. Remove the custom ad blocker rule(s) and the page will load as expected.