Spring Street Station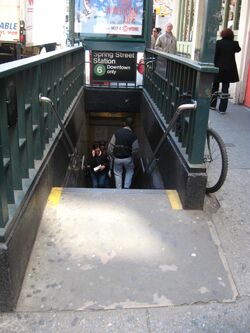 Spring Street "Downtown only" entrance stairway; the entrance seen in the film is the "Uptown only".
Status
Most likely destroyed
Spring Street is a local station on the IRT Lexington Avenue Line of the New York City Subway. Located at the intersection of Lafayette and Spring Streets in Manhattan, it is served by the 6 train (all times) and the 4 train (late nights).
Info
There are two side platforms and center express tracks. The platforms are offset by about two-thirds of their length. The station has been renovated, and is on a slight curve. There is no crossover or crossunder. In a unique layout, there is a space between the express tracks for a pocket layup track, removed long ago. At one point along the center walls, the locations of the switches connecting this track to the express tracks can be seen.
A mechanical room is now located in the trackway at the south end between the two express tracks. The station retains the typical large and small IRT mosaics in the old (prior to platform lengthening) portion. Due to the curve there is a large gap between the train and platform, but no fillers are needed. Fare control is at platform level. The station has small "S" cartouche's from 1904, made by Atlantic Terra Cotta, and large mosaic tablets by Heins & LaFarge, also from 1904. Other small "S" and "Spring St" mosaics are newer.
In Cloverfield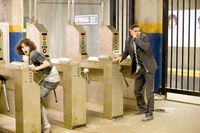 After the Brooklyn Bridge collapse and Jason's death, Rob, Lily, Hud and Marlena are forced to go back inside Manhattan. Shortley thereafter, the group found themselves caught in a crossfire between the army and the monster. Fleeing the sccene, they take refuge in the Spring Street Station. Rob recieves a phone call from his mother and informs her eldest son's demise. Rob and Lily devise a plan to move forward and into the tunnels to the Lexington Avenue/59th Street station.
Trivia
The subway station seen in the film is a set. The replica was completely built in a abandoned Los Angeles warehouse.
External links
Ad blocker interference detected!
Wikia is a free-to-use site that makes money from advertising. We have a modified experience for viewers using ad blockers

Wikia is not accessible if you've made further modifications. Remove the custom ad blocker rule(s) and the page will load as expected.