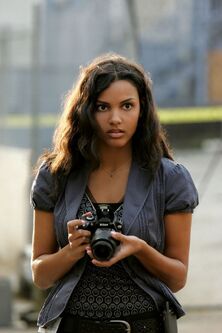 Jessica Lucas (born September 24, 1985) is a Canadian actress. She is known for her role as Lily Ford in Cloverfield, which was released in January 2008. Before that she had minor roles in the TV shows CSI: Crime Scene Investigation and Life As We Know It and the movies She's the Man, and The Covenant.
Biography
Jessica Lucas was born and raised in Vancouver, British Columbia. She has been acting since she was only seven years old, receiving professional training with Children's Theatre Arts. She earned theatre credits in local productions of Snow White & The Seven Dwarfs, Grease, Cinderella, Mousetrap and Music Medley. She was also a series regular on the popular Canadian teen show Edgemont, along with Kristin Kreuk and Grace Park.
Lucas joined the cast of CSI: Crime Scene Investigation in its 2007 season, playing a new character, Ronnie Lake. The character, once a temporary "band aid" to replace Sara Sidle, has been announced as a recurring character on the show. Lucas can currently be seen on the The CW Series 90210 as Kimberly MacIntyre and resides in Vancouver.
Filmography/Television
Film
•Drag Me to Hell (2009) ... as Ellen
•Amusement (2008) ... as Lisa
•Cloverfield (2008) ... as Lily Ford
•The Covenant (2006) ... as Kate Tunney
•She's The Man (2006) ... as Yvonne
Television
•90210 (2008) ...as Kimberly McIntyre
• CSI: Crime Scene Investigation (2007)... as Ronnie Lake (4 episodes)
• Secrets of a Small Town (2006)... as n/a (1 episode)
• Edgemont (2005)... as Bekka Lawrence (26 episodes)
• Life As We Know It (2005)... as Sue Miller
• The L Word (2004)... as Roxanne (1 episode)
• Romeo! (2003)... as Jessica (1 episode)
• 2030 CE (2002)... as Jakki Kaan (6 episodes)
• Damaged Care (2002)... as Tasha Peeno
• The Sausage Factory (2001) ... as Haley (1 episode)
• Halloweentown II: Kalabar's Revenge (2001) ... as Vampire Girl
• Seven Days (2000) ... as Rita (1 episode)
External Links
Ad blocker interference detected!
Wikia is a free-to-use site that makes money from advertising. We have a modified experience for viewers using ad blockers

Wikia is not accessible if you've made further modifications. Remove the custom ad blocker rule(s) and the page will load as expected.