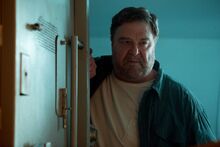 Howard Stambler was a telemetry analyst for Bold Futura. He won Employee of the month in February 2016, seven years after he began working there.
Biography
"Little trick I taught myself as young man stationed on a ship with way too much free time.Every now and again,if the C.O. was working us too hard,we'd freeze and snap the knob off the bathroom door while he was still inside.It usually took him an hour or two to get out."
—Howard tells Michelle about his days in the Navy.
Howard served in the Navy for 14 years and he was working on satellites. Once he was on a mission called "SEASAT" and supposed to be tracking Soviet Spy satellites , but he found something much bigger than he expected. Then Howard and his Co-worker reported what they've found and asked what it was, but the commanders refused to answer to that. They shut them down, sent Howard's co-worker to jail forever and told him that they would do the same to him if he didn't stop asking about it. SO he left the navy not too long after that, but he couldn't stop looking............
"THERE WAS THIS MISSION CALLED SEASAT. WE WERE SUPPOSED TO BE TRACKING SOVIET SPY SATELLITES BUT WHAT WE FOUND UP THERE WAS MUCH MUCH BIGGER. SO THEY CANCELLED THE PROJETC AND MADE UP A STORY TO EXPLAIN WHY. BUT ONE GUY I SERVED WITH, HE UNDERSTOOD THE IMPORTANCE OF WHAT WE WERE SEEING. HE WAS KIND OF A MENTOR FOR ME AND THE FEW OTHERS WHO DIDN'T WANT TO LET IT GO. SO WE BEGAN COMPILING ALL OF THIS EVIDENCE. AND ONCE WE STARTED LOOKING FOR IT, WE SAW THE SIGNS EVERYWHERE. WE ASSEMBLD SO MUCH EVIDENCE AND TRIED TO GET THE COMMANDERS TO LISTEN. BUT THEY DIDN'T WANT TO HEAR ANY OF IT. THEY SHUT US DOWN. AND THEY ACCUSED MY MENTOR OF SPYING FOR THE SOVIETS. THEY SENT HIM TO JAIL FOR 365 YEARS AND THEY MADE IT CLEAR THAT THEY WOULDNOT HESITATE TO DO THE SAME TO ME IF I DIDN'T STOP ASKIGN QUESTIONS THEY DIDN'T WANT TO ANSWER. I LEFT THE NAVY NOT TOO LONG AFTER THAT. BUT I NEVER STOPPED LOOKING."
—Howard's message to his daughter,Megan
In 10 Cloverfield Lane
The Alien Attack
At one night,Howard drove his car to the filling station where Michelle filled up gas just before him. After that, Howard crashed her car because he was in a hurry to get to the bunker. When Michelle waked up, he told her that she was in an accident and he saved her life by taking her to the bunker. Then Michelle asked him to let her go,
Howard insisted that she can't leave and has to stay there for a year or more because of an unknown attack. While they're talking, he heard a loud thudding and said "Excuse me." gently to her and exclaimed "What did you do ?". Then,he came back to the room and told her to show him appreciation.
Encounter
After a while,Howard showed Michelle and Emmet his room and forced Michelle to use bathroom,Even she said she didn't need that. When Michelle said to Howard that she heard car above her room, Howard decided to show her Frank and Mildred to prove that he was telling the truth. Before dinner, he heard Michelle asking Emmett how he knew the air is contaminated and everyone outside was dead,then he said "Because I told him.".
Dinner
At night, Howard invited Michelle and Emmett for dinner which he cooked. During dinner, Emmett kept talking and that made Howard a little angry and uncomfortable. After a while, Howard got mad at Michelle's behaviour and made her promise to be behave. However, while Howard was claiming about that, Michelle took away his keys. As they sat down again and started eating, three of them heard spaceship's sound. At that moment, Michelle hit Howard with an empty bottle and opened the first door of two. But as she was about to open the second door, she saw a woman outside begging to let her in. But her face was obviously infected. Howard argued her not to let the infected woman in. Fearing she was, she finally gave up rescuing that woman.
A little Peace
As time passes, the trio began adapting to life in the bunker, becoming friendly like a family. But in a few days, they hear spaceship above them, though at first Emmett thought it was a helicopter. With Howard`s experience in the Navy, he suggested his theory about an attack. However, this caused the air filtration system's fail. Then Howard told Michelle to go fix it, because she was small enough to reach it.
" My guess? Those flashes that kicked this all off? The was phase one. Take out your opponent's population centers with big hits, all at once,fast. And then for round two. Ground Sweep. A satellite log showed an increase in coded traffic recently. Possibly extraterrestrial signals. I bet what we've just heard were airborne patrols sent to hunt down the remaining signs of life."
—10 C;overfilled Lane.
Killing Emmett
Thanks to the Michelle's work,air filtration system started working again. After a while however, Howard discovered some of his tools have gone missing and threatened to kill them if they didn't confess. So Emmett covered Michelle and took all responsibilities and claimed that he was using them to get his gun and he feels sorry for it. Suddenly, Howard shot Emmett and told Michelle that that was the way it should be.....
Death
After killing Emmett, Howard shaved and looked much more creepy. Finishing cooking the dinner, he visited Michelle's room ,where he found hazmat suit and got really angry. Howard was just about to catch her in the bathroom, but she kicked the barrel over and he fell into the liquid, burning him and igniting ab electoral fire. Filled with anger, Howard started chasing her again but she Knocked over a shelf, which knocked him out. Even after those fatal damage, he stood up again and tried to take her back with a knife, while she was climbing through the air ducts. A few minutes later, the bunker exploded from the fire, killing Howard in the process.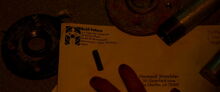 After the retirement, he somehow got hired and worked at Tagruato because he wanted to continue his reserch. In a movie,you can see the letter from Bold Futura to Howard. And on a Tagruato website,he was awarded for the Employee of the Month.(2016 February).
"Howard will celebrate his 7-year anniversary with Bold Futura in the fall.This month, Howard's drive,commitment and refusal to accept easy answers resulted in a significant breakthrough diagnosing transmission complications with two of our governmental clients' orbiting satellites."
—Description about his work and accomplishment
Seeing this, we can tell that Howard started to work in Tagruato in 2009.
Personality and traits
On the Internet
Howard tries his best to get his daughter back and save her.So he set up a website called "FUNANDPRETTYTHINGS.COM". On that website, there several photos of Megan's hobbies, including a screenshot from a movie "Pretty in Pink".(which Howard mentioned as Megan's favorite movie and he was also watching it.) However this is the only picture you can click on and then it asks for a pass phrase.And the pass phrase is "Do you want to talk?"(which is a phrase from this particular scene in "Pretty in Pink".) Then it takes you to the personal website with many secret messages.
If you want to find some clue about Howard's story, Check this out.http://funandprettythings.com
External Links
Ad blocker interference detected!
Wikia is a free-to-use site that makes money from advertising. We have a modified experience for viewers using ad blockers

Wikia is not accessible if you've made further modifications. Remove the custom ad blocker rule(s) and the page will load as expected.