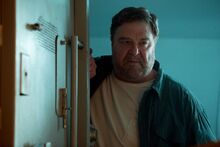 Howard Stambler was a telemetry analyst for Bold Futura. He won Employee of the month in February 2016, seven years after he began working there.
He is one of the main characters but is the sole human antagonist in 10 Cloverfield Lane.
Ad blocker interference detected!
Wikia is a free-to-use site that makes money from advertising. We have a modified experience for viewers using ad blockers

Wikia is not accessible if you've made further modifications. Remove the custom ad blocker rule(s) and the page will load as expected.