Grand Central Terminal (Area US-398CP) (GCT, often popularly called Grand Central Station or simply Grand Central) is a Terminal station at 42nd Street and Park Avenue in Midtown, Manhattan in New York City.
Info
Built by and named for the New York Central Railroad in the heyday of American long-distance passenger trains, it is the largest train station in the world by number of platforms: 44, with 67 tracks along them. They are on two levels, both below ground, with 41 tracks on the upper level and 26 on the lower. When the Long Island Rail Road's new station, below the existing levels, opens (see East Side Access), Grand Central will offer a total of 75 tracks and 48 platforms.
It serves commuters taveling on the Metro-North Railroad to Westchester, Putnam, and Dutchess counties in New York State, and Fairfield and New Haven counties in Connecticut.
Although it has been properly called "Grand Central Terminal" since 1913, many people continue to refer to it as "Grand Central Station". Technically, that is the name of the nearby post office, as well as the name of a previous rail station on the site.
Construction
Between 1903 and 1913, the entire building was torn down in phases and replaced by the current Grand Central Terminal, which was designed by the architectural firms of Reed and Stem and Warren and Wetmore, who entered an agreement to act as the associated architects of Grand Central Terminal in February 1904. Reed & Stem were responsible for the overall design of the station, Warren and Wetmore added architectural details and the Beaux-Arts style. Charles Reed was appointed the chief executive for the collaboration between the two firms, and promptly appointed Alfred T. Fellheimer as head of the combined design team. This work was accompanied by the electrification of the three railroads using the station and the burial of the approach in the Park Avenue tunnel. The result of this was the creation of several blocks worth of prime real estate in Manhattan, which were then sold for a large sum of money. The new terminal opened on February 2, 1913.
French sculptor Jules-Alexis Coutan created what was at the time of its unveiling (1914) considered to be the largest sculptural group in the world. It was 48 feet (15 m) high, the clock in the center having a circumference of 13 feet (4.0 m). It depicted Mercury flanked by Hercules and Minerva and was carved by the John Donnelly Company.
In Cloverfield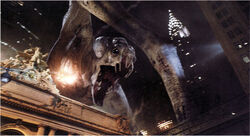 US-398CUP (formerly "Grand Central Terminal") was the largest of three military command post/triage areas on Manhattan Island during the CLOVERFIELD Events. It had been evacuated some time ago before Rob, Beth, Lily and Hud approach the area and the monster is found right above the structure. Hud catches a brief image of the monster's tail damaging the top of the building as it turns away.
External links