Frantic Man
Portrayed by Rick Overton[1]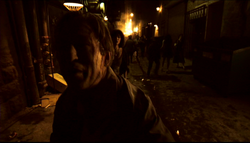 The Frantic Man[2] is a citizen of New York City caught in the middle of the United States Military offensive against the Cloverfield Monster.
Biography
The Frantic Man appears running through the alley and speaks urgently to Hud Platt. "Frantic Man" is his listed name in the end credits. He asks for the whereabouts of his family, as he "cannot live without them". However, Hud is unable to understand him and moves on to catch up with Marlena Diamond.[2]
Trivia
During the release of the film, IGN.com published an article stating the Frantic Man was foretelling the doom of the city and describing the Cloverfield Monster was a "water God"[3][4]
Rick Overton is credited as "Frantic Man".[2]
He was originally referred to as "Russian Guy" and "Screaming Russian Guy".[4]
References
↑ 2.0 2.1 2.2 Cloverfield
↑ Russian Guy: "The water-god from the north has returned, they cannot kill it with fire. Go back…"
Ad blocker interference detected!
Wikia is a free-to-use site that makes money from advertising. We have a modified experience for viewers using ad blockers

Wikia is not accessible if you've made further modifications. Remove the custom ad blocker rule(s) and the page will load as expected.