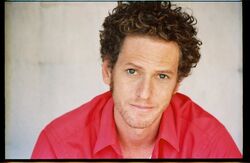 Brian Klugman is an American-Jewish actor. Klugman was born in the suburbs of Philadelphia, Pennsylvania.
Biography
His father is a real estate broker, and his mother is a school teacher. Klugman's uncle is Golden Globe Award-winning actor Jack Klugman. Klugman has two brothers and one sister; Michael "Mike" Klugman (b. 1985), Jeffrey "Jeff" Klugman (b. 1972), and Laurie Klugman (b. 1977).
He attended the Germantown Academy for high school, and Carnegie Mellon University for 2 years. Brian is nicknamed "Klugger". Klugman's most recent role has been in House on the episode "97 Seconds" as Stark, he has also appeared in Cloverfield (possibly due to a previous involvement in Felicity, a series created by Matt Reeves and J.J. Abrams), The Bogus Witch Project, Dreamland, and many more.
External Links
Ad blocker interference detected!
Wikia is a free-to-use site that makes money from advertising. We have a modified experience for viewers using ad blockers

Wikia is not accessible if you've made further modifications. Remove the custom ad blocker rule(s) and the page will load as expected.